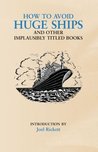 How to Avoid Huge Ships: And Other Implausibly Titled Books by Joel Rickett

My rating: 4 of 5 stars


I have an eclectic taste in art forms, to say the least. Whether I review books, or theatre productions, or music, the range of material I like is pretty vast. I'm rather pleased then to have found some time ago a wonderful resource online called Interesting Literature. Curated by Dr Oliver Tearle, the website posts a range of different literary subjects as large as my own taste. One such area is bizarre or unusual literature, and this is proving costly as I inevitably end up hooked and buy the books.

It is Dr Tearle's fault then, that I am reviewing this book after reading his own review (I do, by the way, highly recommend you read his excellent review for yourself). It was so cheap, easily purchased online and took minutes to read (and most of that was on reading the introduction). But what a delight! And what an investment…

The book lists the best of the 'Diagram Prize' – an annual book contest established in 1978 to determine the oddest book titles of the year. One of the tenets of the prize is to know as little about the books as possible in order to best appreciate the oddness of the titles. For a prize, I understand this reasoning; but for the book, I feel a slight drop in the rating is appropriate for the lack of detail about each titled featured.

Nevertheless, the pictures of each book cover are enough to send me on a new mission. As an avid (and unapologetic) collector of 'collections' – usually in magazine form but also books, DVDs and other media – I now have my new long-term collection goal: I want every book featured in this book by Joel Rickett. The books will surely be put on full display in my home for the benefit of guests. Titles like 'How Green were the Nazis?', 'Italian without Words' and 'The Stray Shopping Carts of Eastern North America' – how can I resist?

But, as I say, my taste in literature is eclectic. You may be concerned to know that I intend, not just to purchase these books over the next few years, but to read them too. I really do want to know about 'Old Tractors and the men who love them'! Or perhaps you don't find it odd? Perhaps you are one of the few like myself and, I suspect, Dr Tearle, who will happily while away a few hours on such subjects? Each to his own and, in this case, that might be exclusively one's own. I shall enjoy these 'special delicacies' nonetheless.

That said, 'Reading Toes' and 'The Big Book of Lesbian Horse Stories' might require a steely determination I normally only reserve for Conrad or Hemingway…


View all my reviews
Social Entrepreneur, educationalist, bestselling author and journalist, D K Powell is the author of the bestselling collection of literary short stories "The Old Man on the Beach". His first book, 'Sonali' is a photo-memoir journal of life in Bangladesh and has been highly praised by the Bangladeshi diaspora worldwide. Students learning the Bengali language have also valued the English/Bengali translations on every page. His third book is 'Try not to Laugh' and is a guide to memorising, revising and passing exams for students.
Both 'The Old Man on the Beach' and 'Sonali' are available on Amazon for kindle and paperback. Published by Shopno Sriti Media. The novel,'The Pukur', was published by Histria Books in 2022.
Ken writes for a number of publications around the world. Past reviewer for Paste magazine, The Doughnut, E2D and United Airways and Lancashire Life magazine. Currently reviews for Northern Arts Review. His reviews have been read more than 4.9 million times.
D K Powell is available to speak at events (see his TEDx talk here) and can be contacted at dkpowell.contact@gmail.com. Alternatively, he is available for one-to-one mentoring and runs a course on the psychology of writing. Listen to his life story in interview with the BBC here.